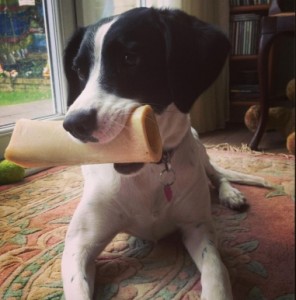 I will look after your dog(s) in my own home during the day, evening or overnight. Home boarding is a kinder alternative to boarding kennels: your dog(s) will be part of my family and stay in a friendly, loving home environment. Your dog(s) will have full access and run of my home and secure garden. One/two walks will be included depending on stay times, and of course daily feeding routines will be maintained and water will always be available.
When your dog stays in my home it will receive all the love, care and attention it deserves. It will be treated like my own, have fun and games, plenty of exercise on all walks, a comfortable resting place, and basic grooming. I will administer medication if instructed to do so and prepare any special diet if required. Dogs that board in my home must not have any aggression issues, they must be fully toilet trained and must display basic obedience. Dogs must be up to date with all vaccinations (including Kennel Cough) and flea and worm treatments before their stay. Proof of vaccinations will be required. Dog Vision cannot accept bitches in season and male dogs must be neutered.
I will board a maximum of 4 dogs in my home and this will include my own beloved resident dog, a friendly, well-socialised nine-year-old staffy.